Give a new look to your mobile bussiness !
Carpe Diem is pleased to announce the opening of its section dedicated exclusively to monetize your Mobile traffic. With MobileRevenu you will enjoy a better offer and comprehensive 24/7 real-time statistics. A new platform is born!
Do you already have an account on Carpe Diem, Eurodialer ?
Use your existing account to connect on the MobileRevenu platform!
Switch in one click from a platform to the other: from statsv3 to MobileRevenu, at your convenience. You will find detailed real-time statistics in your MobileRevenu stats panel !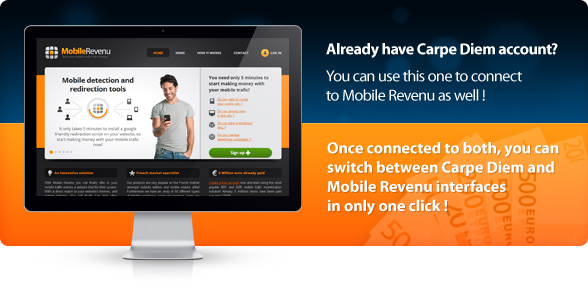 The mobile market is booming !
MobileRevenu offers its flagship mobile detection script in four versions, with personal assistance for its integration:
php
javascript
.htacces
wordpress plugin
MobileRevenu is also assisting you to build your own mobile site: we offer you, in your admin panel, free video content in mp4 format. You will also find tips and tricks to develop your mobile sites.
Our advantages ?
Strong Knowledge of operators billing

The customer is charged directly on his phone bill. The payment is simple, effective and compelling.

Secondary payment methods

Customers not using operators networks, called "Offportal" clients, can buy trough SMS+, direct operator billing, audiotel numbers or credit card.

Sites optimized for all devices

The niche site where the customer is redirected is always perfectly adapted to its terminal for maximum conversion (image size, technical features, click rates, conversion).

Life-time earnings on every purchase